Coloring Photos

Palette Tune colorizes b/w and color photos. Just click on the segment of the image and change the color the way you want.
If a fragment of the image is divided into many segments, they can be easily grouped. This can be done manually. But the program also includes highly effective tools for automatic grouping of segments.
Manage Color
Color correction is possible on a standard palette, separate RGB and HSL channels, and control elements for fine color tuning.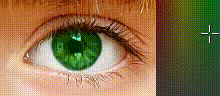 The color of the selected fragment changes during the fly of your mouse. When the mouse moves over one of the controls, you can see the color change. But if you move away the mouse, the fragment's color will return to the previous state. To set the color change, click on the control element and the object is painted in the suitable color.


Free registration for translators
If you can help us to provide support in your native language, please drop us a line, and you'll get a free registration! Just please contact us prior to starting the translation, and you'll receive instructions how to do this.
Copyright © 2018 GEO Ltd, All rights reserved